Cutting greenhouse gases down under would have been a big help according to the New York Times. Or, turning to a sensible source, cutting forest fuel levels, according to Australian bushfire scientist David Packham. (Even better would be if the number of arsonists, currently around 100, who have been arrested for deliberately starting fires in the at-risk areas, were drastically reduced.) What's interesting, and typical, is that the article claiming to spot a causal link between greenhouse gases and severe bushfires only appeared after the forests were ablaze. The article warning about the consequences of not reducing forest fuel levels came out nearly five years ago, so it's one of those ahead-of-time predictions science used to rely on. It's also interesting, and as usual under-reported, that even though this year's fires are making the headlines, a glance at Australian history shows the numbers are far from unprecedented.
The 2015 article about bushfire expert Packham's warning about fuel loads begins
Forest fuel levels have worsened over the past 30 years because of "misguided green ideology", vested interests, political failure and mismanagement, creating a massive bushfire threat, a former CSIRO bushfire scientist has warned.
It goes on to cite Packham's concern that forest fuel levels are higher than they've been in thousands of years. Which might explain the exceptional levels of fire once the stuff ignites.
The other question, always worth asking when the climate panic brigade is out in full force, is whether this year's burn season is actually that unusual. After all, as we explained in our video on the Great Amazon Fire Scare of 2019, the alarmists have a bad habit of exaggerating the scale and novelty of forest fire disasters whenever it fits the climate catastrophe narrative. And Australians have suffered devastating bushfires for centuries. So is this year exceptional?
For answers we go to the Global Forest Watch website where we can get historical numbers since 2001 on Australian bushfires. And we find that the 2019 daily numbers are high, but not as high as 2011 or 2012: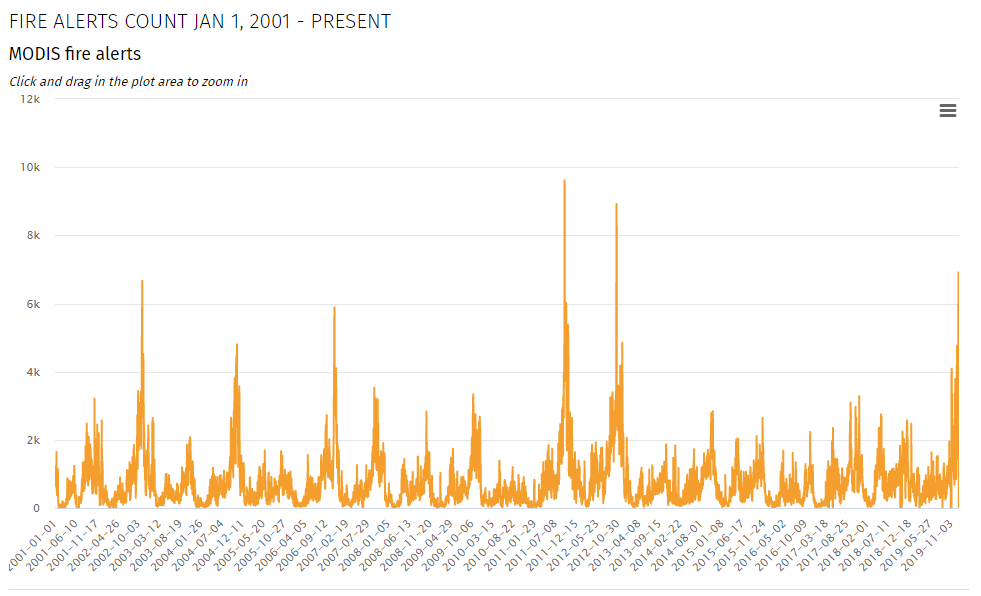 The 2019 cumulative total as of December 31 was tied (with 2006) for fifth highest since 2001, behind 2012, 2011, 2002 and 2004. Not exactly a pattern there.
We should also note that while satellites over Australia recorded about 522,000 fire indicators between December 1 and January 2, they recorded about 850,000 in Africa over the same period. But those didn't make the papers, at least to the same extent, just as they didn't when the Amazon fires were the scare du jour. Perhaps because forest fires happen in dry countries every year, and globally the current numbers aren't unusual: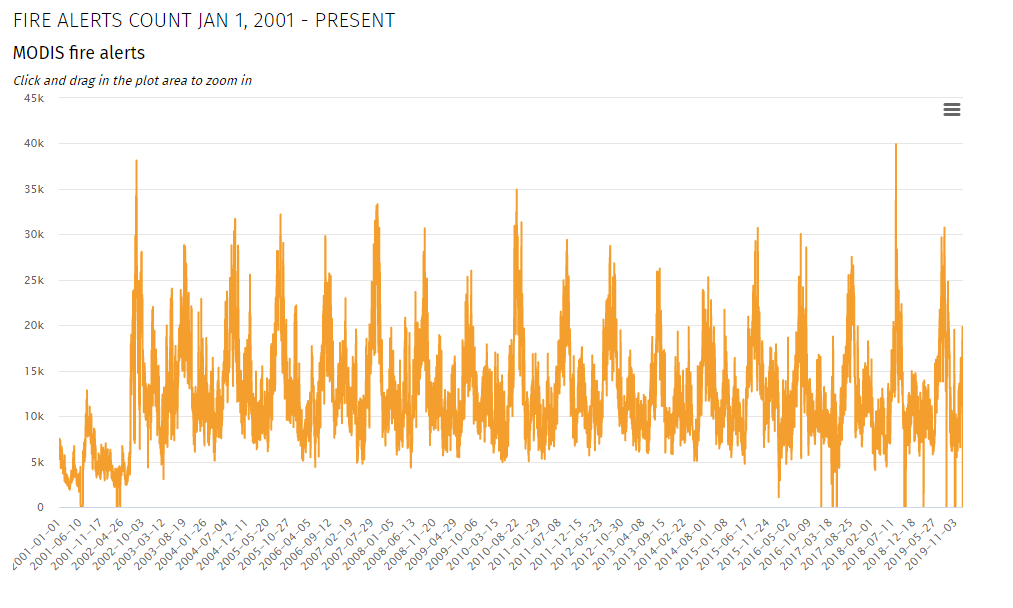 As we have noted previously, scientists have pointed out that, at the global level, the area being burned each year by wildfires is not going up, and is likely even trending down. So if global warming causes wildfires to increase, it must not be happening.
Naturally none of this commentary is meant to diminish the suffering of those in Australia dealing with the scourge of wildfires. Or in Africa or elsewhere. But it is meant to place the issue in perspective and stop opportunistic alarmists from trying to scare people into useless climate policies, rather than pursuing forest management policies that might actually do some good. Like not letting dry wood pile up in huge amounts for some idiot to set on fire.