Closing out our review of Bjorn Lomborg's massive analysis of 21st century we get to zoom out and put climate policy into the larger context of all the other challenges the world faces. Other than green zealots in wealthy countries, who thinks climate is really the top priority? And if we list the things we could be doing to try to make peoples' lives better, and rank them based on likely payoffs, where does climate action appear on the list? Plot spoilers: almost nobody, and waaaay down low.
On the first point, a clue is found in the ranking of the environmentally related causes of death: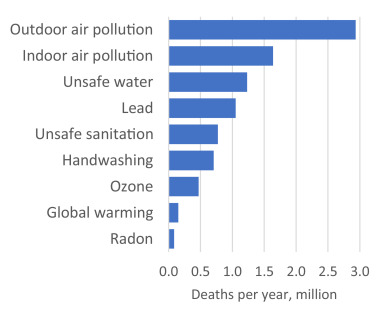 Look closely and you'll see climate change down at the bottom, just above radon gas. Ordinary air pollution (indoors and out) is a far bigger threat to people, which is why it's important to support poor countries that want to build modern power plants, including coal-fired ones, to electrify their homes and industries and improve air quality.
Then Lomborg asks a different question: how much better off would the world be if we solved problem X? As in if we solved global health problems, or inequality or lack of education or poor nutrition? Expressed as a percentage of annual income, the answer looks like this:


Again you have to squint to see climate change. It's at the bottom on the right. All the damage estimates we talked about in previous weeks, even if they are not exaggerated as they may very well be, add up to a very tiny amount compared to other global challenges.
So why is everyone obsessed about climate change? Well, they're not. It's strictly a rich man's game. Even though we're told global warming hits the poor hardest, within and among nations, the poor themselves don't agree. In 2015 the UN organized a scheme in which 10 million people around the world got to vote on their priorities for government action. Education and health were at the top, while action on climate change was at the bottom.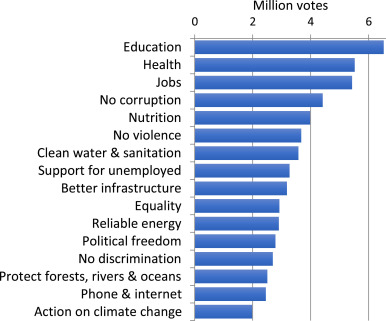 Climate change didn't just rank below political freedom or corruption. It ranked below cell phone access. Some crisis this one is turning out to be.
So what should we do? Well, Lomborg then ranks public investment priorities based on the payoff ratio: what society earns for every dollar invested. Green energy and climate policy are big losers, earning about 11 cents for every dollar flung at them. Improvements to health and liberalization of trade are the best investments, returning significantly more than a dollar for every dollar put into them.
There's the bottom line. And remember, Lomborg isn't drawing on the analysis of fringe "deniers". He's using mainstream climate analysis by mainstream climate experts, and they are not telling us to crash the economy to try to eliminate fossil fuel use or carbon dioxide emissions. They're telling us to do a little on climate but focus on other areas where the same investment could do far more good for human beings. Which is good advice, unless you are one of those climate zealots who has lost sight of the idea of pursuing human wellbeing, and instead you are keen to save the world from the climate crisis, even if you have to destroy the world to do it.