We mentioned previously that alarmists can't get enough of boiling oceans even though none are to be seen. So they have dispatched ever-escalating rhetoric to do the job of absent facts. And thus UN Secretary-General António Guterres announced that global warming has ended (years ago, dude, replaced by "climate change") and "the era of global boiling has arrived". In Ontario as we write these words in late July it is 16°C and we have a heater on at the cottage. What is astounding about this rubbish isn't just that he said it, it's that one media outlet after another amplifies instead of scrutinizing it. Reuters "Sustainable Switch" emailed credulously "The era of global boiling" and the Washington Post even ran an "analysis" whining that "As the world boils, a backlash to climate action gains strength." Or maybe as the rhetoric gets more unhinged people understandably begin to doubt the whole narrative, especially since their energy costs are soaring.
Paul Homewood commented that "It is little wonder only a few people believe in this scam any longer, when the UN chief has to resort to moronic talk of "global boiling" to get his agenda across". Except if it were a scam, he would be more careful not to say stuff that was laughable. It's the true believer who rants and raves. And how would you get so many notoriously fractious people as journalists all to join in the same scam and tell the same deliberate lie? Whereas a mass delusion looks exactly this way.
In one of Damon Runyon's classic noir stories, specifically "Dream Street Rose," a semi-tactful character says that if something "is not a lie, it will do until a lie comes along." Which brings us to the infamous graphic from a Lancet study also dealt with in our 2nd Science item this week purporting, in the midst of heat wave hype, to prove that heat is more deadly than cold.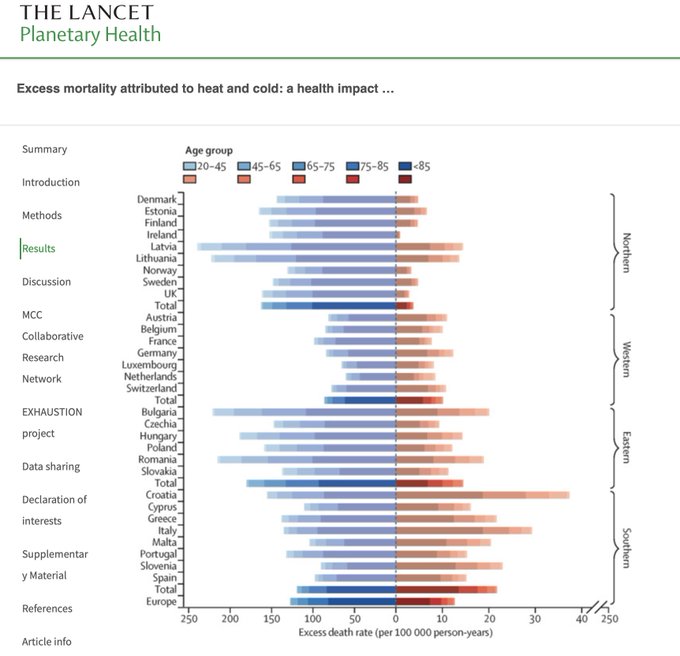 In tweeting it Steve Milloy asked "Can you spot the deception? Even I initially missed it." And many people, far too many, insist that climate change is a deliberate fabrication. Including otherwise admirable figures like Tony Heller and even Patrick Moore. But although this chart is "How To Lie With Statistics" 101, we use the analogy not to imply deliberate deceit but to indict zealotry. Indeed, it's so crude that the completely different scales for heat and cold on the X axis could not fail to be spotted, and hurled in their faces, which no one following cunningly devised fables would deliberately let themselves in for. As they would also not expose themselves to the obvious reproach that cold kills way more people than heat.
The Economist also insisted that "Heatwaves kill more Americans than any other weather-related disaster." And yet, they noted, Americans are moving en masse to the hot parts of the country. The headline told you what the sophisticates at Economist HQ think of these sweaty, nay scorched rubes: "Americans are moving to places besieged by extreme heat". Alas, the story said:
"A recent study from Redfin, a property platform, finds that the 50 counties with the highest share of homes exposed to extreme-heat risk grew by an average of 4.7% between 2016 and 2020. The five hot counties that experienced the most growth were in Arizona, Florida and Texas. Williamson County, Texas, which includes suburbs near Austin, grew by a whopping 16.3%. Counties with lots of homes vulnerable to drought, fire and floods also grew, though less rapidly. Places with relatively low climate risk experienced population declines."
Maybe they're all idiots, in which case the clever journalists at The Economist can scoop up some soon-to-be-prime real estate at a bargain. Or maybe "climate risk" is a media artefact, one people see through when they're deciding where they'd like to live. (Oh, and Tony Heller offers a custom software package for querying the U.S. temperature record for yourself. Maybe journalists should try it.)