In this week's entry in our review of the Clintel analysis of the recent IPCC report we look at Ole Humlum's chapter on sea level trends. We like having a bit of fun ourselves on the sea level topic. And evidently Humlum does too because he compares simple extrapolation of past trends in Scandinavian sea levels with projections in the IPCC report and it's one of those things that has to be seen to be disbelieved.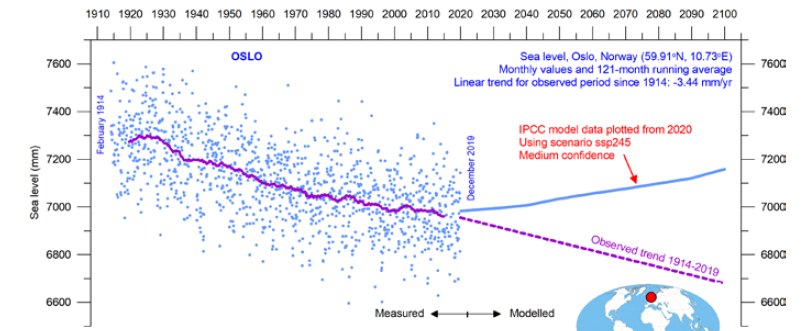 Humlum made use of an online projection tool at the IPCC's own website to show the IPCC's forecast of future sea levels. He even picked one of the moderate emission scenarios so as not to be accused of exaggerating, though had he used their favoured RCP8.5 he'd merely be following the IPCC's own example. The picture above for Oslo is mirrored at Stockholm, Helsinki and Copenhagen. The IPCC's outlook depends on the trend which has been observed for the past century suddenly reversing as of 2020, e.g.: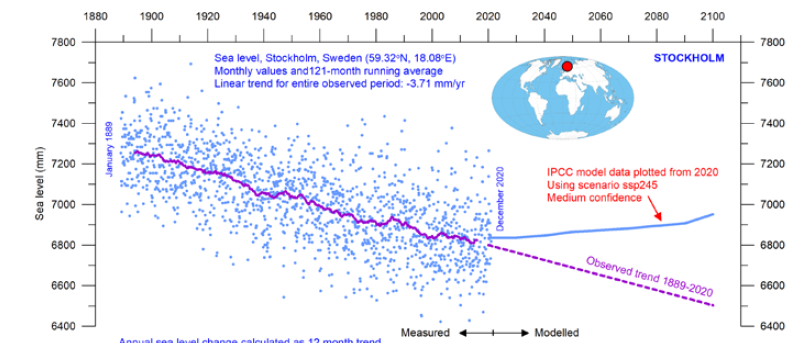 Humlum points out that it would have been even more informative if they began their forecasts in, say, 1950, so we could see just how well their model did versus the real world. But failing that, we can guess. He also draws attention to a step-change in sea levels in 2020 whereby the very first year of the model runs is noticeably higher than observations. The fact that they didn't even bother to fix that obvious problem gives us even less confidence in their projections of the far future.
The supposed rise in sea levels is one of the key disaster claims the IPCC uses to frighten politicians into taking extreme measures. But clearly there is an element of model jiggery-pokery at work. Humlum concludes:
"For coastal planning, as usual, observations from traditional tide gauges remain the main data source to consider for planners and policymakers."
Real world data over model projections: sounds like a good idea to us.