This just in, there are wildfires in the Canadian province of Alberta. It could be connected with Canada having 300 billion trees made of wood, the same combustible stuff as fire logs. (Well, not if you have a fake gas fire with ceramic logs, or a digital one.) Or it could be proof that humans are destroying the climate. Or it could be the arrival of spring. Canada's Minister of Environment and Climate Change knows the reason and promptly tweeted that "It is heartening to see so many coming together and stepping up to help get the devastating wildfires under control. With thousands displaced from their homes and incalculable damages, Canadians are on the front lines of extreme weather events exacerbated by climate change." Being the nerdy types, we think a bit of old-fashioned data might be helpful for understanding what's happening.
The Weather Network said "Alberta wildfires double in size coming off a record warm start to May". CBC chipped in "Alberta could be headed for active fire season, experts say". And Heatmap pounced with:
"May is 'classic' fire season in Alberta, but last week's record-breaking heat is making a bad situation worse. That's a trend we're seeing more of in the spring around the world — and these unseasonably aggressive blazes are likely only a sign of worse summers and falls to come. 'We're almost moving to fire years instead of fire seasons,' one emergency management expert recently told CBC. 'That's the result because we're getting warmer.'"
So it's a trend. But of course they don't show you the numbers, even though they are conveniently charted at Canada's National Forestry Database: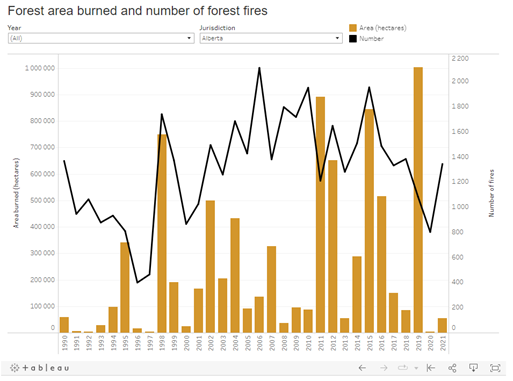 The annual number of fires peaked in the early part of the last decade and has been declining ever since, while the total area burned continues to show considerably variability. It hit a new high in 2019 then the next year fell to the second-lowest on record.
If we broaden the picture out to the three western-most provinces (BC, Alberta and Saskatchewan) we still see the declining trend in fire numbers and even more variability in total area burned.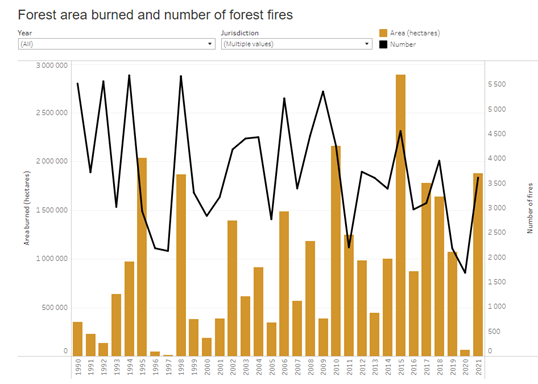 Now 2015 holds the record, with 2019 in the middle of the pack, indicating that a bad fire year in Alberta was nothing special in the provinces on either side, which is not the picture you'd expect if it's global climate change.
In lieu of data the Weather Network showed cartoon flames erupting from a bit of the United States vaguely near Alberta, along with southern Spain.
Professional weather forecaster Joe Bastardi complained, "Spain covers about 10% of Europe. So what do we get. A focus on a very warm, dry April in Spain, THAT IGNORES 75% OF EUROPE COOL AND 50% ABOVE PRECIP" while Tom Nelson quoted an Extinction Rebellion tweet and sneered "97% of climate cultists hope that if they use enough🔥 emojis, we'll believe that trace CO2 causes fires."
For good measure Heatmap ignited some part of Brazil.


And then added some text weirdly conceding that:
"It's a natural cycle; May is 'classic wildfire season in Canada' thanks to the dead winter grasses that, once uncovered, turn the landscape into a tinderbox."
But this time it's different. They insist that:
"This year, though, there have already been 395 wildfires recorded in Alberta — over 100 are active, with 36 classified as out of control as of Saturday. Those blazes represent 'significantly more wildfire activity, for this time of year, than we've certainly seen anytime in the recent past,' according to Christie Tucker, a spokeswoman for the province's fire agency."
Tell that to the National Forestry Service. Their data base shows the January to May totals in each year from 1990 to 2020 are regularly above 400, and if anything the numbers have been declining over the past decade: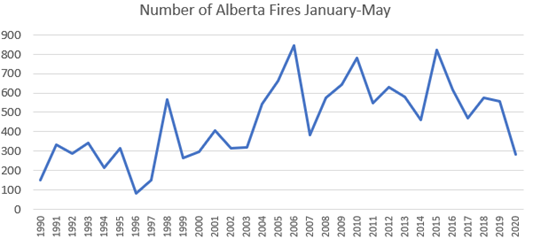 What then of the more distant past? Never you mind:
"The 'unprecedented crisis' in Alberta is owed in part to a heat wave that broke 34 temperature records in the province last week. Combined with the region's ongoing drought – the severity of which has been attributed to climate change – the Canadian fires are the latest example of 2023 heat exacerbating an already robust wildfire season."
Except, as Bastardi also pointed out, on May 16,"Canada sticks out like a sore thumb on a planet where currently more areal coverage of cool than warm over the land masses India alone population weighted with its cool blows away Canada". (Not everyone proofreads their tweets, but "areal" here means "in terms of area".) And Tony Heller chimes in that "Alaska has had four cold winters in a row. Alaska used to be the "global warming canary in the coal mine" but the canary seems to have flown away."
Also, if unprecedented "global" warming is causing fire seasons to get bigger, badder and earlier, why is it that :
"In Alberta, by today's date, only about 1,000 acres have burned in recent years. This season so far, the total is already more than 1.5 million – which would make it the province's third-worst annual result, just a few weeks into May, with months more of wildfire season still to burn. In the United States, by contrast, those who live in fear of wildfire are probably breathing a bit easier. Last year was a relatively light one, with fewer than eight million acres burning across the country – close to the two-decade average and well below the damage of several especially scarring recent seasons."
Did global warming not happen in the years just before 2023?
In the midst of all this hype what actually happened was cooler weather showed up. A respite Reuters characteristically greeted with "No respite for wildfire-hit Alberta as conditions set to worsen" (a headline subsequently revised to "Alberta wildfires hit gas flow out of Canada to US, spiking prices") before conceding that, technically, "a couple of cooler days helped calm wildfires. (Incidentally over at No Tricks Zone Pierre Gosselin warns of a study out of Germany that wind farms exacerbate drought by reducing soil moisture but why dwell on the negatives?)
Of course Scientific Activism, reprinting another piece from E&E News instead of doing their own journalism, blares that "Heat Waves Fueled by Climate Change Topple Records around the Globe". But as we've noted, given that there are weather records for tens of thousands of places around the world, in a year where nothing unusual was happening hundreds of places would still set records.
For instance that prefecture in Japan that had its latest-ever-recorded snowfall on May 8. And as Bastardi also complained, on May 8, "I see failure to look at the rest of Europe. Typical deception distortion and delusion. MORE OF EUROPE COOLER THAN AVERAGE IN APRIL".
Anyway, the big point is that Western Canada is prone to wildfires. Always has been. But we have a lot fewer than we did decades ago before relentless heating made them more rhetorically common.
Scientific Alarmism doesn't care, thundering that:
"We're About to See a Rare and Record-Setting May Heat Wave/ A potentially record-setting heat wave is headed for the Pacific Northwest and western Canada, a sign of the shift to hotter – and earlier – summers".
But this business of predicting heat waves before they happen so you get your fiery licks in just in case they don't is a subject for another day.