Just look at the terrible wildfires in California in 2020, which were awful, with worse to come as climate change continues. And as the noted climate experts at the World Economic Forum tell us, wildfires around the world are getting bigger and more intense, "a painful and stark reality of what it means to be living with the effects of climate change." Everybody knows global wildfires are raging out of control and are the worst they've ever been. And because everybody knows, there's no need to check the data. But we will anyway.
Here's a chart based on a dataset showing total global burn area as measured by satellites, sponsored by the European Space Agency and posted by data analyst Zoe Phin: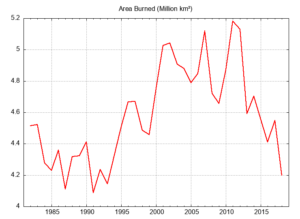 (The ESA also shows the data here.) And looky here: 2018, rather than being the worst year ever, was the lowest year for global area burned since 1994. And the trend has been downward since 2000. Dang, another myth up in flames.
Keep sending us tips for our "Everybody Knows" series. We're looking for stories that make alarmist assertions about anything climate-related without bothering to check the numbers, with links please. Send your suggestions to admin@climatedn.com.