As our regular readers and viewers know, we do not believe in conspiracy theories. And yes, some call us "naïve" for believing that dangerous zealots are dangerous merely because they are zealots. To repeat, when people say things you disagree with and do things you disagree with, it's because they think things you disagree with. But our position admittedly gets harder to defend when a social media platform not only slaps a finger-wagging warning across our material ("Climate change refers to long-term shifts in temperatures and weather patterns, mainly caused by human activities, especially the burning of fossil fuels") but also attributes this propaganda to the United Nations. Still, we must point out that if it were a plot, they'd certainly leave off the last bit.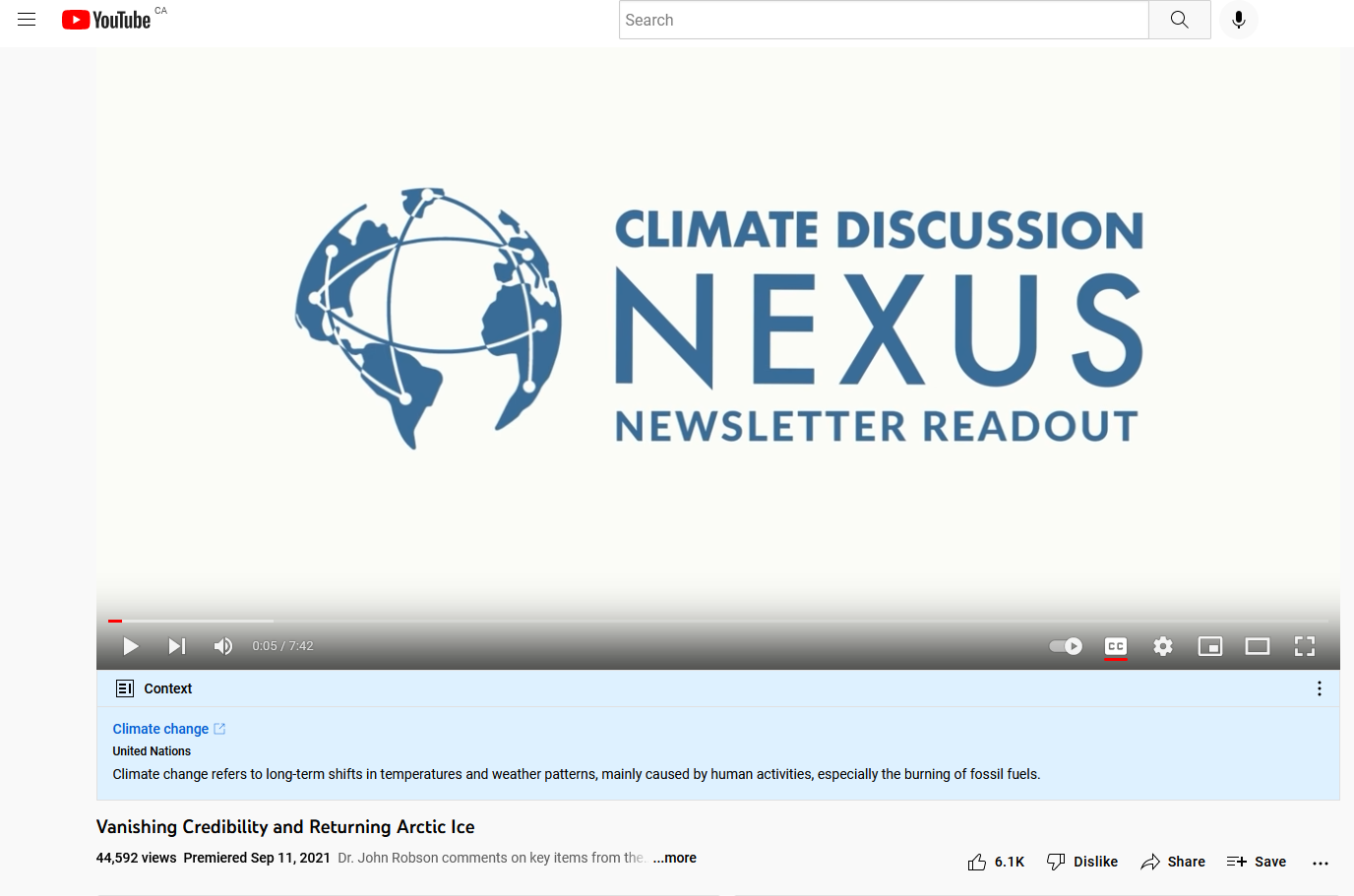 We bring it up because of a Yahoo! News story from Agence France-Press that starts "A British television interview viewed tens of thousands of times on social media features a man claiming that global warming is natural, CO2 has no provable effect on the climate, the greenhouse effect is negligible, and computer models used to measure climate change are skewed. But the speaker is not a climate specialist, experts say the claims are false, and world scientists overwhelmingly agree that humans are heating the planet by burning fossil fuels." (The author, predictably, "is not a climate specialist" himself, holding a PG Diploma in Journalism from City University and a Master's Degree in Literae Humaniores (Classics) from Oxford, which doesn't impair his confidence in his climate science fact-checking chops. Whereas the guy he's dissing studied physics.) Whereupon the piece waves Mann's hockey stick without alerting the audience to any controversy regarding that artefact.
In our view it would be helpful if both sides refrained from dark hints that their adversaries are up to something dishonest and sinister. The best way to refute wrong statements, whatever their origin, is to expose them to the sunlight of open debate. And we certainly do not regard the discussion as a race to the bottom in which, if those who disagree with us pin ugly labels on us and say we are paid liars, we seize the excuse to do the same. But in any case we feel that if global warming alarmists were in some gigantic plot involving the WEF and the UN, one as cunning as it was sinister, they almost certainly would not wave the pale blue banner in such a conspicuous manner. Dan Brown's villains never do that kind of stuff.