As a reminder of what we went north in search of, here's is how the Government of Canada represents the changing winter climate of the far north: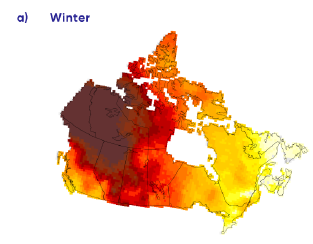 We had hoped that for our final stop on the sunburnt lands tour we would have found some of that blazing warming to show you, but once again we struck out. Our virtual float plane took us to Arctic Bay between Baffin and Devon Islands where the old company town of Nanisivik still resides, waiting for some of that dangerous anthropogenic warming to show up. Alas the wintertime highs today look about the same as they did when the record began in 1938. Here is January:



February:



March:



At the risk of being called deniers, we must deny that winter in the far north looks like the heat-blasted conflagration we were led to expect.